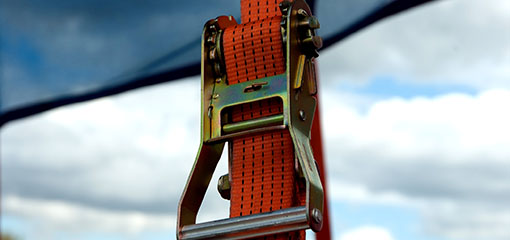 The topic you want to know most about during our visits is load security – how we apply the rules and what drivers can expect at the roadside. We've addressed the most common issues here, to share our responses with a wider audience.
What is a secure load?
A secure load is attached to the vehicle so that it will not fall off or affect vehicle stability and pose a risk of danger or injury to other road users.
The Road Vehicles (Construction and Use) Regulations 1986 state that '…the weight, distribution, packing and adjustment of the load of such vehicle or trailer shall at all times be such, that no danger is caused or is likely to be caused to any person in or on the vehicle or trailer or on a road.'
So, here at VOSA, we expect a load to be secured to the vehicle bed to prevent 100% forward, 50% sideways and 50% movement to the rear.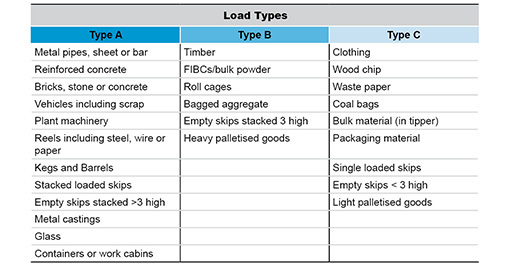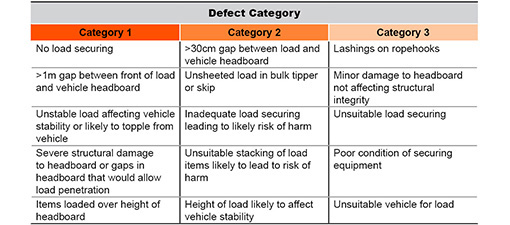 Internal cargo straps on curtain-sided trailers
You can use internally fitted straps hanging from the rails of a curtain-sided vehicle to secure a combined load and pallet of no more than 400kg in weight. The ideal solution is one strap across two pallets from rave to rave of the bed of the vehicle. You may need more straps if there are not enough fitted to the vehicle or trailer.
Use of sheeting
You will need to sheet unsheeted, open vessels – such as skips – and bulk-carrying vehicles when carrying loose loads. If the load expands over the height of the sides of the vessel, you must use additional security.
VOSA's enforcement
We will issue a prohibition and fixed penalty of £100 for any load found to be insecure. You can contest the prohibition and fixed penalty in court, by completing Part 2 of the fixed penalty notice and returning it to our Fixed Penalty Team in Swansea. Full address details are on the notice.
We have also supplied a load security matrix. This is a chart that will help you to work out what kind of security you need to apply to different types of load – and what our response will be if you fail to meet the standard. This is the matrix that our own officers use, so everyone is using the same information to work out how secure your load is.