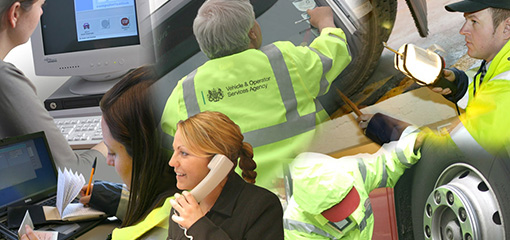 The VOSA Effectiveness Report for 2012 – 2013 is now out. Our annual effectiveness report looks at how well our work over the past year has supported the compliance of buses, trucks, and MOT garages in line with standards that help maintain road safety.
Better pass rates
First time pass rates have improved for trucks, buses and trailers, helped by our Authorised Testing Facility (ATF) strategy, which allows operators to use the same equipment to test as to maintain their vehicles.
Smooth operators
Operators have also benefited by being aware of their test performance. Operators who actively access your test reports from www.GOV.uk typically have a 25% higher pass rate at annual test than those who don't.
A few years ago, VOSA launched a test report service that allowed preparers to access their own first time pass rates at annual test. Since then, we have seen that vehicles prepared by organisations registered for this service and actively using it have an average first time pass rate of 92%.
Failing on lamps and brakes
However, HGV and trailer failures are still often due to lamp and brakes defects. Defective brakes are a major risk to road safety and should be an important part of your regular maintenance regime.
Targeted enforcement
We can measure how well we target rule-breakers by our prohibition rate. As we better target non-compliant vehicles at roadside checks, so our prohibition rate rises.
The overall prohibition rates for mechanical defects and for drivers' hours checks have both improved. Almost 1 in 5 of all drivers checked at the roadside are in breach of the regulations. The top HGV traffic offences are:
failing to keep records of other work
excess weight
defective tachograph
Education, education, education
It is clear that for many of our customers, haulage is not their core business. These customers often need educating, so we run information campaigns alongside our enforcement activities. We work closely with industry representatives and trade associations to produce material that is useful, relevant and user-friendly, such as our Van Best Practice Guide, Guidance for operators of stretch limousines, Guidance for horsebox and trailer owners and Guide for recovery operations.