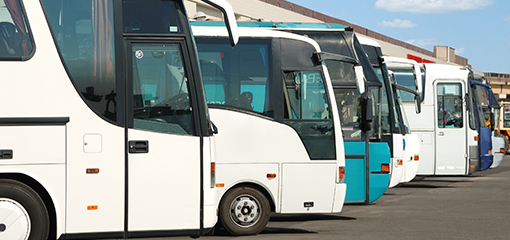 You can now voluntarily register your buses, coaches and trailers with VOSA. Registering your vehicles means that you can then generate your test history reports, encounter reports and your Operator Compliance Risk Score (OCRS) – all for free – using VOSA's online report services on www.GOV.UK.
Register your vehicles
Visit the VOSA transport office website to register and confirm your vehicles.
On the 'Vehicle list/duplicate disc request' tab, check the new information box at the bottom of the page to make sure that your list of vehicles is accurate and up-to-date.
Using the new Add/Remove tabs, register any PSVs or trailer identities to your licences.
Tick the self certification box. If you forget to tick this box, your reports will not return any test results.
Save
Generate reports
Use the VOSA online report services to generate reports.
Tests will only be shown on a report from the date the vehicle is added to the system. The service will not produce historic reports.
We will email the reports to the address you write on your request. Do make sure your email address is correct before you send the request!
We will try to email your report within 2 working days, although this may take longer during peak times.
Checklist
Register your vehicles on VOSA's transport office website.
Double check your vehicle list is up-to-date. We cannot change the reports if there are mistakes in your list of vehicles.
Tick the self-certification box.
Double check your email address is written correctly.
Featured image courtesy of Shutterstock.