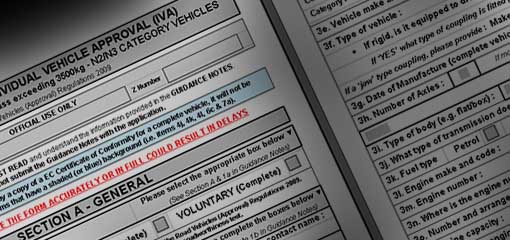 You have told us that the way we process applications for Individual Vehicle Approval (IVA) can be improved. We have taken a look at the way we work and we agree – we are working to better understand and improve the way we process IVA applications and provide tests for these vehicles.
IVA gets VIP treatment
We are collecting baseline data to develop an accurate Service Level Agreement:
mapping the current end-to-end process from application to test
analysing waste across all IVA processes
identifying and implementing 'quick wins' to improve our process
reviewing the baseline data to develop a long-term improvement plan
Friendly forms
We are redesigning the IVA application forms to become more user-friendly, with features such as pop-up guidance notes to help you complete forms.  We expect the new design to be launched in spring 2014.
Easy payment option
The new design will also allow you to include credit card information on your postal application form, which will help us to process your application much more quickly, as we won't have to contact you for payment.
Working with digital
We are reducing our forward booking times for applications being processed in the Customer Service Centre by sending forms electronically to your local DVSA testing station. This service will be used when the form has been submitted correctly and we take more than 5 working days to process it.
Later this year will be reviewing the option to send more applications from Customer Service Centre electronically, to further improve forward booking times.
We will be shortly confirming 'C' and 'Z' numbers, and the Vehicle Identification Number – VIN – in the same email we send you to confirm payment.
Our Customer Service Centre also link to a digital customer feedback form on all email correspondence, which allows you to give us feedback more easily. This form helps us to understand your needs and make improvements where we can.
You can feed back to our Customer Service Centre now.
Greater resource
We have developed a new role – IVA National Operations Manager – to make sure that the process and testing across all our sites is consistent, and that resource is directed to meet demand.
Our Customer Service Centre has more people assigned to process applications and answer queries on IVA. We have also expanded our testing slots to out of working hours, including Saturdays, and are training up extra IVA examiners to meet local demand.
More IVA test sites
We are increasing the number of heavy vehicle stations that can provide IVA tests, with more facilities coming on board all the time.
We want to work with you
Once the new forms are ready, we will be running workshops in Bristol and Nottingham for Heavy IVA customers to get involved in how we develop this service for the future. Spaces will be limited but if you would like to play part, email Business Excellence with:
your name
company
contact details
whether you'd prefer to attend a Bristol or Nottingham workshop
We want you to help shape our new processes by improving the way we deliver our services.  This means we can be sure the improvements we're making meet your requirements.