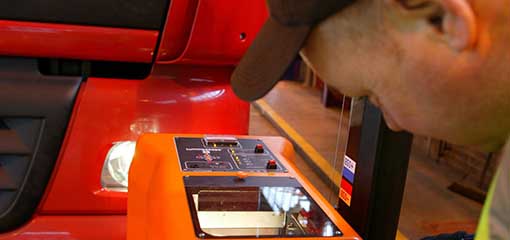 Headlamp aim remains the top fail item for heavy vehicles at annual test. The most likely causes? Well, it has to be either you or the kit.
Shake, rattle and roll
All headlamp aim testers are built to engineering tolerances. These differences can add up and make repeating the test a bit difficult.
Solution
You can minimise any tolerance issues by making sure that your headlamp aim testers are correctly maintained and calibrated at the required intervals.
Seeing things in a different light
We all see the light spectrum differently. If I see more red and you see more blue, the cut-off line may appear in a slightly different place to us. If one of us is not blessed with perfect vision we may just not see things in the same way.
Solution
The upper limit for headlamp aim is 0.5% or 1.25%. Don't 'fix' the aim in the workshop at this level. Any minor mistake can end up with a fail or pass after rectification.  Instead, set the headlamp aim midway between 0.5% and 3.25% (or 1.25% and 4% for higher positioned headlamps). This way, any minor differences won't affect the result. There is a 2.75% 'window' in which headlamps can be set – don't waste it by aiming for the top line!
Level your aim
We also regularly find headlamps where one is high and the other is low. If you don't have a headlamp aim tester available and you use a garage wall instead, begin by adjusting headlamps to the same height to give yourself a chance.
Remember, it is best practice to check the headlamp aim every time you replace any headlamp bulb or disturb any headlamp assembly.
Take a look at our diagram of tolerance bands in HGV & PSV Headlamps: let's aim to get it right.
Read our Headlamp aim guide.