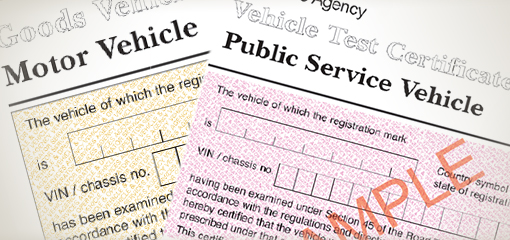 You may have seen a new version of test certificates now in use for trucks, trailers, buses and coaches – the VTG5, VTG5A and VTP20. These test certificates have been updated to comply with EC Roadworthiness Directive 2010/48.
The directive means that test documents must capture three new elements of information not previously recorded by these certificates:
Country of registration
Vehicle Identification Number, or VIN –verified by the vehicle manufacturer's plate
Odometer reading – recorded at the time of test where an odometer is fitted in the cab. Hub odometer readings are not recorded.
Each certificate has a revision date of April 2013 and some were published and used before 2014 where old stocks were exhausted. Only the new versions have been used from 1 January 2014.
As we introduced these changes before the announcement of the VOSA and DSA merger, the certificates still carry the VOSA logo. They will be updated with the Driver and Vehicle Standards Agency logo as and when stocks run out.