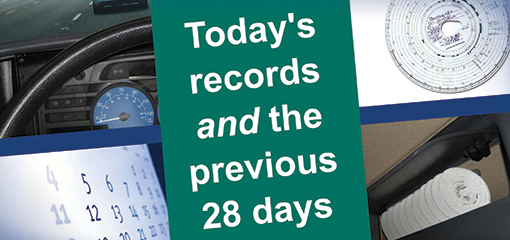 The law states that drivers must carry tachograph records for the days where they have driven a truck or bus which falls within scope of the regulations. They must also carry manual records for non-driving work days between weekly rests when driving takes place in the same week.
Drivers must produce these records for the date of travel and the previous 28 days. Drivers who have a digital tachograph driver card must carry it at all times – even if they haven't yet used it.
Last year, our enforcement staff had to prohibit over  2,300 UK and 630 non-UK drivers from continuing their journey because they were not carrying enough tachograph records.
Drivers who do not carry enough records could be fined up to £300 and their vehicles immobilised for up to 45 hours. This in turn can affect your Operator Compliance Risk Score (OCRS), and increase the chances of your vehicles being stopped again in future.
Keep your OCRS in the green – make sure your drivers know the rules and carry enough tachograph records to cover the last 28 days.