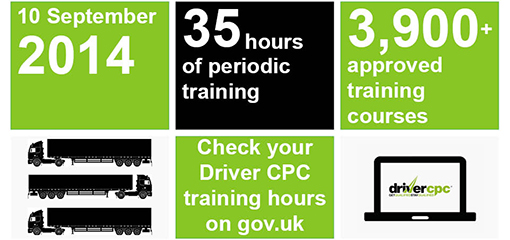 Britain's roads are among the safest in the world and one of the ways we keep them this way is by encouraging all drivers to keep their skills up to date. This is particularly important for professional drivers.
The Driver Certificate of Professional Competence – or Driver CPC – was introduced in 2008 for those who drive a bus, coach or lorry for a living.
From 2009, new lorry drivers had to successfully complete the Driver CPC initial qualification before entering the industry. After that, they must complete 35 hours of periodic training every 5 years to continue driving professionally.
Existing drivers were awarded 'acquired rights' which took their previous experience into account and allowed them 5 years before their first block of 35 hours training had to be completed. The deadline for these drivers to have completed this training is 10 September 2014.
Nearly 700,000 hours of training were completed in 2013, and lorry drivers with acquired rights are well on the way to completing their first round of 35 hours of periodic training before the 10 September 2014 deadline.
We are encouraged by the number of lorry drivers taking part in periodic training, but all professional drivers and their employers must be aware of the deadlines. Drivers can check on GOV.UK to see how many hours of training they've completed, and create a password to share the information with their employer.
Operators can use Driver CPC training to make sure their drivers are up to date with the latest on fuel-efficient driving techniques, defensive driving, first aid, health and safety, drivers' hours and tachograph training. Details of training centres approved to deliver Driver CPC courses are available on the Joint Approvals Unit for Periodic Training's website.
DVSA's Chief Executive, Alastair Peoples, said "DVSA enforcement officers already routinely check the Driver CPC status of professional drivers. After the deadline they'll be able to check whether 'acquired rights' lorry drivers have completed their training or are driving illegally. Not being aware of Driver CPC is not an excuse for drivers or operators."
The message is echoed by the Office of the Traffic Commissioner, who urged transport managers, directors and licence holders to recognise the importance of this qualification to their workforce and be aware of their drivers' training hours and deadlines to avoid penalties.
Joan Aitken, lead Traffic Commissioner on Driver CPC, said "This is a critical time for the HGV industry. Driver CPC is not an optional extra – it is a must.
"Operators could find themselves before commissioners if there are issues around the circumstances in which a driver was working without their driver qualification card (DQC), or failed to produce it."
Find more information on Driver CPC on GOV.UK.
Driver CPC statistics are also available.