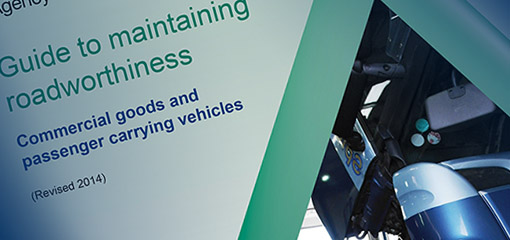 We have this year updated the Guide to Maintaining Roadworthiness – essential reading for anyone whose responsibilities include vehicle roadworthiness. We are especially grateful for the views and advice of the transport industry representatives we worked closely with during this review.
As a result of their input, the 2014 revision clears up some grey areas and gives better guidance to operators, drivers and maintenance providers. Some of the more important changes we've made are to:
Older vehicles and trailers
As vehicles and trailers age, their average annual MOT failure rate increases. These older vehicles are more likely to experience in-service roadworthiness defects than newer vehicles. Therefore, our guidance for older vehicles and trailers is more frequent maintenance. We also recommend a maximum interval of 6 weeks between safety inspections for vehicles and trailers aged 12 years and older.
Safety inspection completion date
However you decide your safety inspection intervals – mileage, time-based or a mix of both – you must not exceed them. We recommend that an International Organisation for Standardisation (ISO) week planning system is used to allow some flexibility when you plan safety inspections. With this system, you should complete the safety inspection within the relevant ISO week it falls.
Safety inspection and repair facilities
If you decide to provide your own safety inspection facility, it must be able to do the job.
We have listed the items that you will need for your safety inspection facility. We acknowledge that there is no one-size-fits-all approach – our list is based on best practice. One of the first things a traffic commissioner will look at if you fail to maintain your vehicles in a safe and roadworthy condition is whether you are meeting the best practice guidelines we've laid out.
Because the emission test is initially a visual inspection, we have removed the need for access to engine exhaust emission test equipment from our list. But we do also state that if your vehicle exhaust is visible, you will need this equipment to make sure your vehicle's emissions fall within the legal limits.
Brake testing
We have included a new section on brake testing. As described in the VOSA Effectiveness Report 2012 to 2013, almost 64,000 trucks, buses and trailer units failed their initial brake efficiency inspection, while at the roadside we issued over 8,000 prohibitions for brake defects.
So, we are now looking for regular, meaningful, laden brake testing over and above the inspection at the annual MOT test.
You can read the details on page 24 of the guide, but we can share here that we are now looking for a minimum of three successful brake efficiency tests spread throughout year in addition to the annual MOT test.