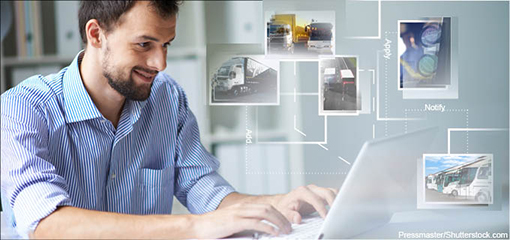 This article has been provided by the Office of the Traffic Commissioner
Self service operator licensing will be extended next year and you will be able to make new applications online and submit electronic paperwork for the first time.
In 2012 to 2013, you made over 75% of transactions online. If you're a self service user, you can already make vehicle changes, apply for licence increases and pay fees - amongst other things - online.
We have already started work on developing the new services, including replacing the system behind operator licensing self service with a new database. The improvements will provide better services to you and better processes for applications, licences and public inquiry cases.
For the industry, new licence applicants will be able to apply online. The new system will also get data from Companies House automatically. And existing operators will be able to send in some paperwork electronically.
The project team – which includes the Traffic Commissioner for the North East of England, Kevin Rooney, and staff from DVSA – will update you through this blog over the coming months.
We will talk about the latest developments, show screens from the new system as well as asking you and the industry for feedback on the proposed improvements.
We want to hear your suggestions and thoughts on the latest developments. You can also see what has been developed so far on the new system, using our demonstration site – if you are interested, email us at operatorlicensing@otc.gsi.gov.uk for more details.
Operators can register for self service facilities at GOV.UK