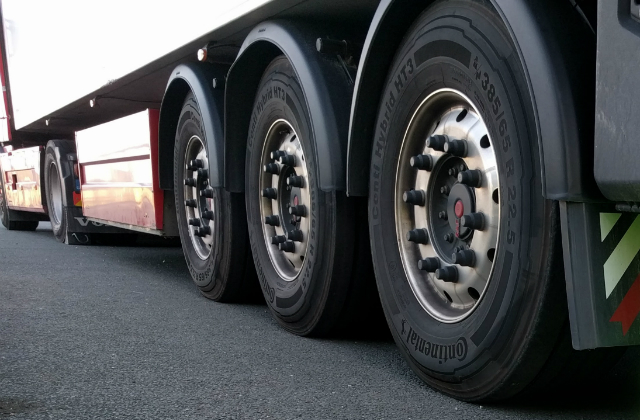 In November we released an update to the Guide to Maintaining Roadworthiness. One of the updates in the new guide was about the use of tyres over 10 years old.
Since then, we've received a few questions on what is expected of operators who use older tyres on their vehicles and trailers.
I thought I'd write this blog to clear up exactly what's expected of you and to answer some of these questions.
The guidance
The first thing to clear up is that our guidance does not ban tyres of a specific age. It only says that operators should have an adequate tyre management system in place and consider the risks associated with using older tyres.
The main factors to consider are speed, axle weight, journey distance, and the position of the tyre on the vehicle. These all influence how much stress the tyre is exposed to and the effect tyre failure may have on control of the vehicle.
Obviously, any tyre failure is a concern for road safety. It could cause a crash, there could be delays because of a broken down vehicle, and shredded tyre remnants could pose a danger to other road users.
Old tyres on historic vehicles
We've had lots of questions from people who own historic vehicles that are only driven to shows and events. They wanted to know if they needed to change their older tyres.
First off, you should get all tyres of all ages regularly inspected by a competent person. This should be part of your tyre management and vehicle maintenance system.
Even if an older tyre appears safe, you'll need to assess and manage any risks associated with its use. A short journey at a low speed when the vehicle is lightly loaded poses different risks to those involving long journeys, high-speed journeys, or use while the vehicle is laden.
Department for Transport guidance states that you should not use older tyres on a front axle. An older tyre could still be used on the rear axle as part of a twin wheel fitment, though.
Old tyres on 3-axle trailers
Whether it's safe to use older tyres on a three axle-trailer as part of a single-wheel fitment depends on how you're using trailer and managing the tyres.
Having 3 axles and 6 wheels reduces the risk of trailer instability and loss of control if a single tyre fails. But using older tyres at high speed and fully loaded potentially increases the risk of tyre failure.
In short, it again depends on how you're using the tyres. That means your tyre management risk assessment should consider how you use the trailer and how often you inspect your tyres.
Trailers used at slower speed or lower weight will reduce the risk. So you can still use old tyres on a single wheel fitment as long as you have good tyre management systems in place.
Reporting to the Traffic Commissioner
Some of you have asked if we'll report you to the Traffic Commissioner if we catch you with a tyre more than 10 years old.
If we find an operator with a tyre more than 10 years old, we'll follow up to remind them of the guidance. We'll also ask for assurance that they've done a risk assessment for their vehicle, taking how it's used into account.
We won't take any further action if the operator shows they're maintaining their vehicles well and have controls to reduce the risk of tyre failure.
If they can't show us that they're managing their tyres and reducing risk, we would consider referring them to the Traffic Commissioner.
Why we've issued this guidance
Following a coach crash in 2013, concerns have been raised that older tyres are more likely to fail catastrophically than younger tyres.
As a result, the Department for Transport (DfT) is currently researching the effect of age on tyre integrity. We expect the results of this research later this year.
The DfT decided to introduce this guidance on the user of older tyres as a precaution while the research is still ongoing.
Once the results have been received and reviewed, we may reconsider or refine our approach to older tyres. Keep your eyes peeled for updates in this area.
To sum up
There isn't a ban on older tyres and you don't necessarily need to stop using them. It all depends on how you're using the tyres and how you manage any risks they might pose.
You should have a comprehensive tyre management plan in place that includes the identification of a tyre's age.
You should not use older tyres on the steering axle of a motor vehicle. If you choose to do this, you must thoroughly assess the risks.
Ultimately, you are responsible for the safe operation of your vehicle.
As ever, we're keen to hear what you think. Please leave comments below with any questions or anything else you'd like clarified.