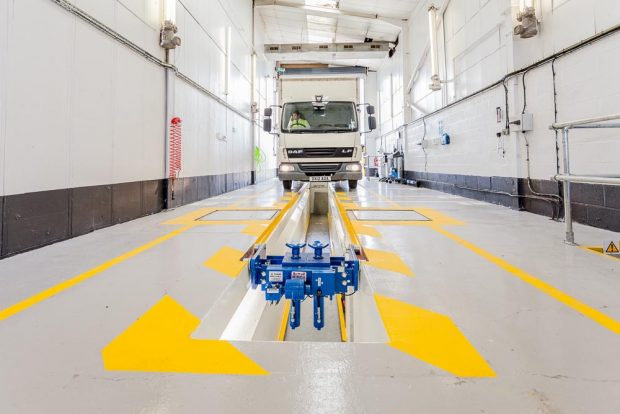 We've just published data on the annual test, covering April to June 2019. DVSA's Hugh Rimmer takes up the story.
Nearly a million lorries, PSVs and trailers take the annual test. About 89% pass first time. But many of the reasons that vehicles fail could and should have been picked up as part of the daily walkaround check before the vehicle was driven or presented to us for testing.
Many failures could be avoided
Lorries, PSVs and trailers are subject to a far more rigorous maintenance and testing regime than private cars. It's concerning how similar the top annual test failure reasons are to that of cars. And that a similar percentage fail for the same reasons as cars.
A fuller look at the top ten reasons for test failure shows just how many faults should have been picked up as part of a driver's daily walkaround check.
And the majority of these faults could have potentially fatal consequences for the driver and other road users.
Lamps are the top failure reason
3.5% of failures are for lamps – the top reason. This is followed by headlamp aim at 3.4%.
Checking if a lamp is working is as simple as switching the lights on and having a look. A headlamp which is obviously misaligned may also be identified when checking the lights for operation and security.
Make sure your brakes are working
Just over 6% of failures are for brakes, spread over brake system components (2.9%), service brake performance (2.2%) and parking brake performance (1%).
Many more obvious problems can be picked up by a visual inspection. And anyone driving the vehicle should be able to recognise the more serious problems with the brakes.
What else?
Half of the top ten failures are in just two areas – lighting and brakes. The remaining 5 are:
steering – 1.8%
suspension – 1.5%
speedo/tacho - 0.8%
tyres – 0.8%
emissions – 0.8%
Steering defects affect control of the vehicle, so should be picked up when it's being driven. A visual check where possible is likely to identify any suspension defects.
Problems with the speedo/tacho will have become very apparent to any operator that wishes to remain legal.
Tyres must be checked daily as part of the daily walkaround check.
Emissions can be more difficult, but in many cases, it's obvious that a vehicle's emissions are too high and causing a health risk to the public. Don't forget that if there is visible smoke coming from the exhaust, it's an instant failure.
Check your vehicle!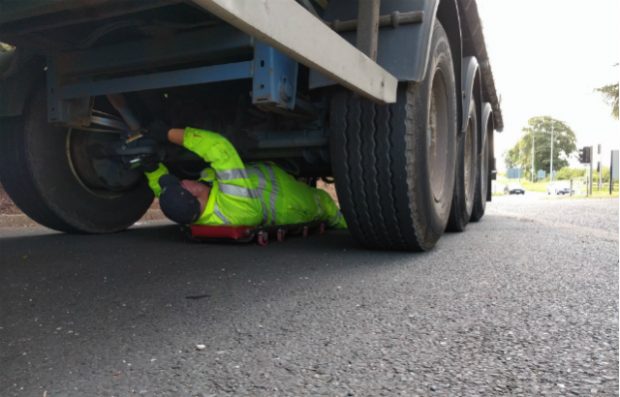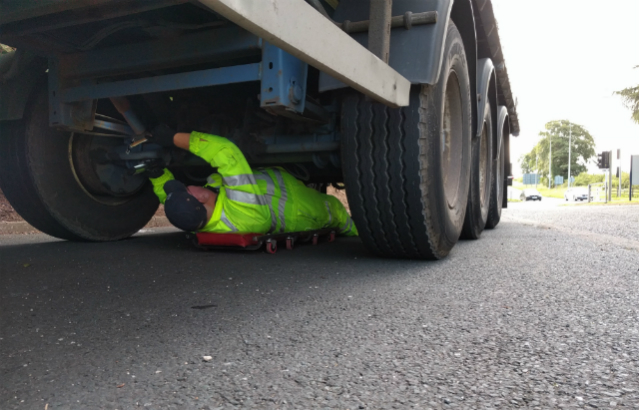 Picking defects up early can prevent the problem from getting worse, prevent accidents and reduce downtime caused by the vehicle failing its annual test.
It's also worth pointing out that if the defect is worthy of a prohibition and it is obvious that it should have been seen during the walkaround check the prohibition will be S marked.
Age and fleet size
It shouldn't be a surprise to anyone that older vehicles are more likely to fail the test. 3.6% of HGVs fail their first test at a year. It's 3.3% for trailers and only 1.2% for PSVs. However, this rises significantly with age. So HGVs aged 12 years or more have a 28.7% failure rate.It's 16.5% for trailers of the same age and 18.9% for PSVs.
The obvious advice here is to keep a close eye on vehicles as they get older and increase regular maintenance checks.
Fleet size is also a factor. If you're running just one vehicle, then the failure rate is 19.9% for HGVs and 26.1% for PSVs. This falls to just 4.4% and 2.8% respectively for fleets of 101 vehicles and above.
It's easy to argue that larger fleets can afford more people to look after them. But all heavy vehicles should have a daily walkaround check and no matter how many vehicles you have, somebody must fill the role of Transport Manager.
Our recent heavy vehicle horrors blog post shows some more of the obvious failure items picked up by our 500 testers.