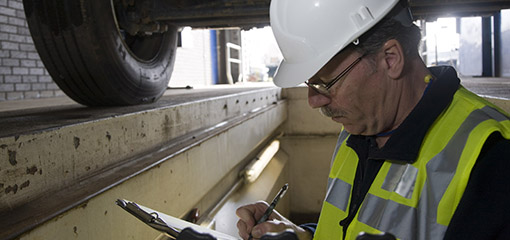 We commissioned a work measurement study of heavy goods and public service vehicle annual testing last year, to make sure we have up-to-date, accurate timings.
With almost 80% of all annual tests now being conducted at Authorised Testing Facilities (ATFs), we focussed the study on work carried out at these locations, though we also included observations at our own test stations.
The work was carried out by the Department for Transport's own in-house analytical consultancy (IHAC) and external engineers from Scott Grant Ltd.
The timing data covered all HGV, trailers and PSVs together with the ATF by type:
drive through
drive in – reverse out
non-standard
We will use these revised average test guide times for all tests booked after 1 July 2014. It is important to understand that these are guide times that cover a range of vehicles in a variety of conditions. ATF operators can use the new times as a guide for scheduling and to plan test lane loading. But these new times are not absolute measures – each vehicle will still be given as long as it takes to have a quality annual test.
The impact these new guide times will have on your business will depend on the mix of vehicles you book for test.
Guide to new heavy vehicle test times
Vehicle group
Current
(minutes)
New
(minutes)
Difference
(minutes)
Motor vehicle 2 axle
40
40
0
Motor vehicle 3 axle
45
45
0
Motor vehicle 4 axle
55
55
0
Trailer 1 axle
20
20
0
Trailer 2 axle
25
25
0
Trailer 3 axle
25
30
+5
PSV small <23 seats
50
45
-5
PSV medium 24 to 49 seats
70
50
-20
PSV medium 24 to 49 seats with seatbelts
70
55
-15
PSV large 50+ seats
70
55
-15
PSV large 50+ seats with seatbelts
70
65
-5