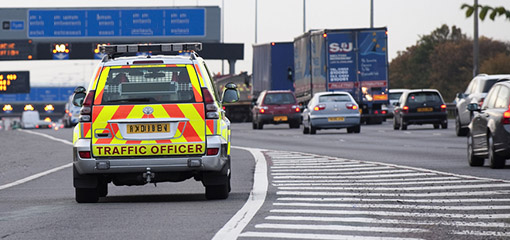 We are trialling a joint working pilot with Highways Agency (HA) to stop commercial vehicles at the roadside.
HA Traffic Officers will be trained in stopping officer duties, but incident management will remain their priority. They will be supporting, rather than replacing, DVSA stopping officers.
We are running a 4 month pilot near Doxey on the M6 from 1 September, to assess if joint working improves on our ability to target high risk vehicles, and how the additional demands will affect HA Traffic Officers.
So let your drivers know that if they are travelling near Doxey from September this year, they may be stopped by a HA Traffic Officer rather than a DVSA officer.
Image supplied courtesy of Highways Agency