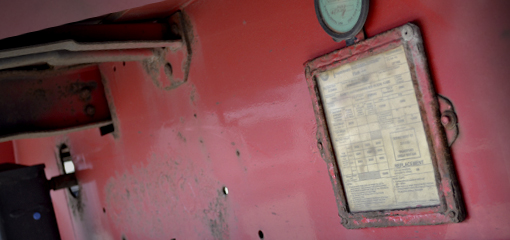 Before you take a commercial vehicle for its annual test, you must have a plating certificate – also known as a ministry plate – that shows the permitted axle and gross vehicle weights.
This is listed as part of the process in the DVLA's V355 guidance notes and Automated First Registration and Licensing (AFRL) dealer procedures guide, when you first register your vehicle.
If you've bought a new vehicle from a dealer or manufacturer who registered it, it's worth checking that the correct details were submitted to DVSA at the time of registration and the plating certificate is included. If not, you'll have to apply for one before you can take your vehicle to annual test.
To get your plating certificates, you must email your European Community Whole Vehicle Type (ECWVTA), National Small Series Type Approval, or Individual Vehicle Approval certificates to NTA@vosa.gsi.gov.uk or post them to:
DVSA Testing and Support Services
Ellipse
Padley Road
Swansea
SA1 8AN
In your covering note, you must include:
a) From all applicants:
Registration number
Vehicle Identification Number (VIN)
Date of registration
Name and address of who the plating documents should be sent to
The reduced revenue weight if it's lower than the design weight
b)   From applicants who are submitting a certificate of conformity (new vehicles):
The function e.g. rigid, artic or drawbar
The brake system type e.g. air/hydraulic
The service break system 'split' arrangement
The manufacturers designated secondary brake
If there is more than one driven axle, is it fitted with a third differential?
Is a transmission brake fitted?
We will create the plates and will usually be able to issue you with them within 16 weeks of receipt of your certificates.