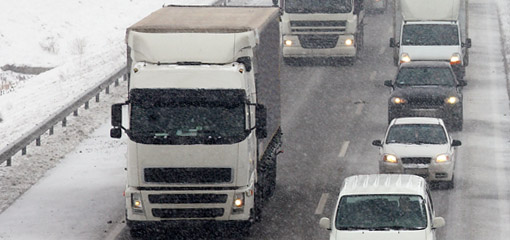 Despite the increased likelihood of difficult driving conditions in winter there's no easing off on the pressure to deliver. In fact with Christmas approaching the pressure for many freight companies can be greater than ever.
So keeping the main roads open during severe weather is vital for many businesses and everyone on the road can help achieve that.
The Highways Agency, which manages the motorways and major A roads in England, will be working hard to keep its network clear – with more than 500 salt spreaders and snow ploughs on standby. That doesn't guarantee HGVs won't get stuck. And if one vehicle gets stuck, so does everyone else behind!
Posters and information packs
The Highways Agency has produced an information pack for you to distribute to your drivers. This will take only a few minutes to print off. It's been written with the help of freight and coach companies and who are distributing it within their fleets.
As well as the information sheets, there are posters you can display in depots: one aimed at drivers and one for fleet managers.
Download the information sheets
Download poster for drivers
Download poster for fleet managers
One of the key messages is 'keeping an eye on the weather forecast at least several days ahead'. Companies have shown that they can reduce the impact on their business by adapting schedules in response to the forecast – not just waiting for the bad weather to hit.
For drivers, there are reminders not to cut corners in the cold, advice on preparing their vehicle and driving in all types of weather.