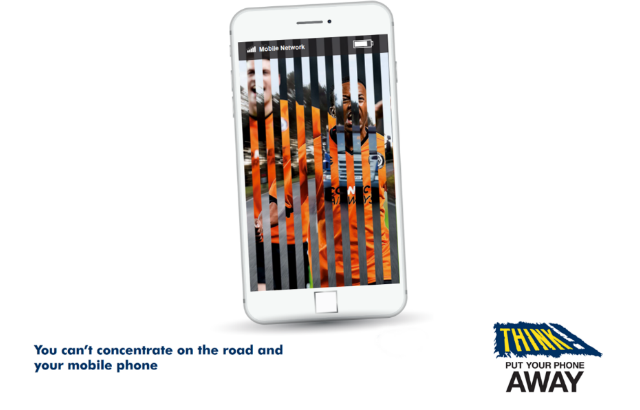 Back in March, we told you about a THINK! campaign highlighting new penalties for drivers caught using a handheld mobile phone while driving.
You've probably seen or heard some of the campaign adverts since our last blog. If you haven't, there's a simple message for all drivers – put your phone away while driving and avoid the temptation of making a call or answering a text.
Over the past few months, the campaign has focused on you: professional drivers and employers of professional drivers.
THINK! have produced a leaflet specifically for drivers and employers. It gives advice on:
the changes in the law

what penalties drivers and operators can face, including from the traffic commissioners

the dangers of using a phone while driving

what drivers and employers should do to minimise the risks
Driver conduct
As a professional driver, you are responsible for maintaining a high standard of driving.
Using a handheld mobile phone while driving presents an unacceptable risk to road safety. As a vocational licence holder, you should know these risks and your conduct and behaviour at the wheel should remain professional at all times. Not just when driving a commercial vehicle, but also when driving your own vehicle.
If your conduct falls short of the required standards, a Traffic Commissioner can take action against your vocational licence. For mobile phone offences, this is likely to mean a suspension from driving lorries, buses or coaches.
If you're caught using a handheld mobile phone in a commercial vehicle, it's a minimum four-week suspension which could affect your livelihood. And, the action taken by traffic commissioners is in addition to any fine and penalty points you'll receive.
Employer responsibilities
As an employer, you should set clear policies on mobile phone use. You should also educate drivers about the dangers and risks of using a phone while driving. The people who are responsible for managing your drivers should be encouraging a compliant culture. Their driving behaviour should be an example to others.
Operators can face action against their licences from a traffic commissioner if one of their drivers is caught using a handheld device behind the wheel to speak to the office or a customer.
Drivers should be able to tell their employer if they're under any pressure to use a phone while driving – whether that comes from customers or managers.
Ultimately, you can't concentrate on the road and use your mobile phone at the same time.
So, please THINK! and put your phone away while driving.