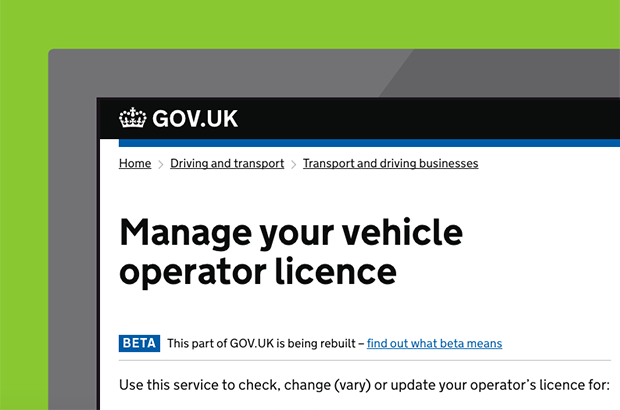 It's been a while since we last told you about new digital services for operator licence applicants and licence holders that we've introduced. These services allow businesses to apply for and manage vehicle operator licences online for the first time.
So, we wanted to let you know how it's going and what we've got planned for the future.
How many times the new service has been used
Since the launch, the new services have been accessed over 600,000 times and have been used to:
make over 3,600 licence applications
make over 40,000 licence changes - many of which would have been made online for the first time
process 200,000 vehicle changes
We monitor the system's performance and your feedback on a daily basis. We're really pleased that satisfaction with the service averaged 81% in the last month. That's up from 49% when we first launched.
Improving the licensing process
The new online services have also helped to reduce licence processing times.
They've given us the opportunity to deal with compliant applications in under 9 weeks. Nine weeks has been the service standard for a long time - but the service lets us process compliant applications more quickly.
For the first 3 months of the service, the average processing time for digital applications was less than 7 weeks. We'll be reporting on the new services' performance every quarter, so you can see how we're doing.
Managing your licence
The new services are about much more than applying for your licence, though. We've built a system which allows you to manage your licence online.
The new services allow you to:
add more vehicles to your licence
apply to increase your vehicle limit
apply to add a transport manager to your licence
We've seen a 40% increase in changes to licences online since the new services were launched.
What we'll be doing next
We have 2 big improvements to make to the service.
Safer, simpler and faster
The first is making the service safer and more secure, using something called GOV.UK Verify. It's the new way to prove who you are online. It gives safer, simpler and faster access to government services.
We'll use it to replace the wet signature that you have to provide on application forms. It will be in use shortly for new applications.
A certified company will verify your identity. They've all met security standards set by government. You don't need to be an existing customer with a company as they've built new, secure systems to verify identities.
Verifying your identity takes about 15 minutes to complete, but you only have to do it once. You'll then have an identity account with the certified company. You can then access other government services in less than one minute wherever you see the GOV.UK Verify logo.
Watch this video to see how GOV.UK Verify works.
Introducing licence continuations
The second improvement will let you continue your licence online. As you know, operator licences have to be continued every 5 years. Sometimes operators miss their payments or fail to return the paperwork.
We're still working on this but hope to introduce licence continuations to the services later this year.
Sign up for email alerts for the Moving On blog to get updates from the Traffic Commissioners for Great Britain and DVSA.