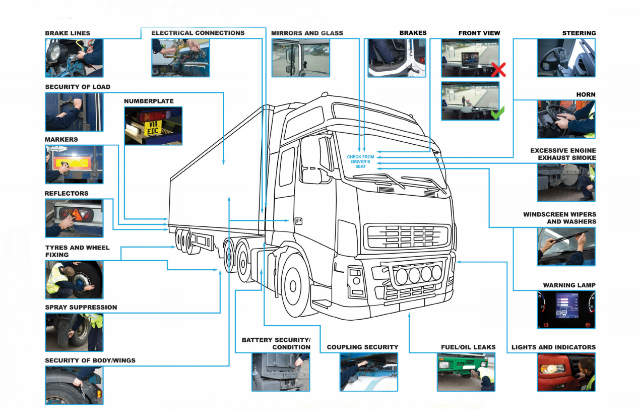 With Black Friday and Christmas fast approaching, it's particularly important that you do your daily walkaround checks this winter.
Most of the faults our staff find at the roadside could have been easily prevented if the driver had carried out their walkaround checks.
Not only could it mean avoiding prohibitions and fines, it'll make your job and Britain's roads safer.
Be safe this winter
Statistics show that last December, there was a dramatic spike in the numbers killed on Britain's roads from 153 in November to 171 in December. There are any number of possible explanations for this. It could be poor weather conditions, shorter daylight hours, or an increase in road traffic.
What you need to take away from this, though is simple - be careful. This doesn't just apply to how you drive, but to how you maintain your vehicle. Making sure it's roadworthy is as important as getting enough rest and driving for your conditions.
Simple faults
Faults like defective tyres, loose wheel nuts, and blown light bulbs are easy to fix. But, they can land you a fixed penalty of up to £300 each and faults like a defective tyre could even cost you three penalty points.
And it isn't just operator's who are liable for penalties - drivers are responsible for their vehicle's condition too.
All these faults can be easily spotted by carrying out a quick walkaround check. So, what can you do to avoid missing easy to spot faults like these? Here's a few tips for making walkaround checks part of your daily routine.
Check it before you set off
You shouldn't think of your walkaround checks as an inconvenience, but as something you must do before you set off.
Doing a quick check before you set off will help keep all road users safe. It's much better to discover an unsafe tyre before you set off rather than while driving at speed.
Take the time to do it properly
This might seem obvious, but you should always make sure that you have enough time to perform your checks before setting off.
You should also make sure you've got the correct equipment whatever the conditions, like a torch for performing walkaround checks in the dark.
It's also a good idea to ask a colleague or a mate for help to check certain things. They can help you make sure your rear lights and indicators are working, for example.
Make sure your staff know what they're doing
Operators, when hiring drivers you need to make sure that they know how to perform a walkaround check properly. If they don't, it's important that you provide training.
This training needs to be repeated regularly. This might seem like a hassle at first, but it will save you time and money in the long run.
Keep an eye on things during your journey too
Making sure your vehicle is safe to drive isn't something that stops once you start driving. You need to make sure everything's in working order during your journey too.
So if you discover a problem that makes your vehicle unsafe to drive, that means you can't continue to drive it. You need to report the problem and get it fixed before you continue.
A good tip is if you effectively treat it like a breakdown. Just because the vehicle can still drive, that doesn't mean you should carry on driving it.
Keep up to date
We organise and run regular new operator seminars. These aren't compulsory, but we'd welcome as many operators as possible.
At these events we give out useful tips and guidance that your drivers can follow to avoid penalties and stay safe.
More information
It's worth repeating - walkaround checks are important and that there's a lot you can do to make sure they are performed.
DVSA's priority is helping you keep your vehicle safe to drive and walkaround checks are an important and useful way of doing that.
Not only could they can save your business money, they could save your life this Christmas.
For more information you can read our guide to daily walkaround checks.