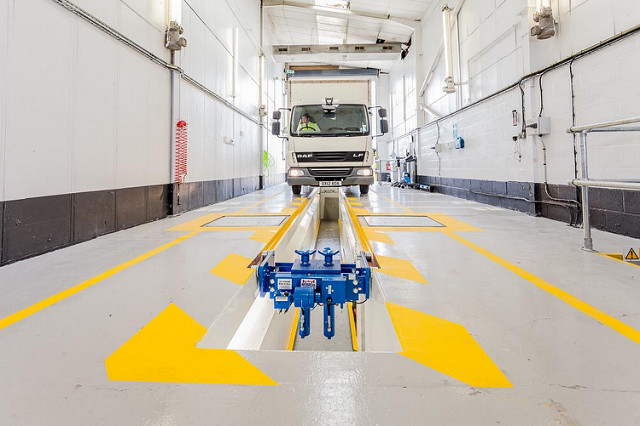 We're now getting close to implementing the roadworthiness directive.
Most of the changes will happen in May 2018, so I wanted to let you know about the main ones that will affect heavy vehicle testing.
Vehicles that will now need an annual test
From 20 May 2018, some heavy vehicles, based on an HGV chassis, will lose their test exemption and will need to have an annual test for the first time.
These vehicles must have an annual test by 20 May 2018:
volumetric concrete mixers
trailers
those used to travel abroad
Phased approach to testing
Testing will be carried out on these vehicles using a phased approach between 20 May 2018 and 20 May 2019:
mobile cranes
breakdown vehicles
engineering plant and plant, not being engineering plant, which is movable plant or equipment being a motor vehicle (not constructed primarily to carry a load) especially designed and constructed for the special purposes of engineering operations
tower wagons
road construction vehicles (but not road rollers and other specialised
equipment not based on an HGV chassis)
electrically propelled motor vehicles registered since 1 March 2015
tractor units pulling exempt trailers
motor tractors and heavy and light locomotives exempted under sections 185 and 186 (3) of the Road Traffic Act 1988, where these are based on a HGV chassis
However, during those 12 months, all these vehicles must be tested before their next Vehicle Excise Duty (VED) renewal date.
Testing on the Scottish Islands
The directive means that all heavy vehicles and trailers on the Island of Bute will need to be tested for the first time, whether or not they are used on mainland Great Britain.
All other heavy vehicles and trailers based on the Scottish Isles will only need to be tested if they're used on mainland Great Britain.
This includes:
Arran
Great Cumbrae
Islay
Mull
Tiree
North Uist
You can find more information in the recent Department for Transport (DfT) consultation on 'HGV periodic testing and inspections exemptions'.
Fast tractors
Fast tractors designed and built to do more than 40 km/h, will also need to be tested if they're used for transporting a load that isn't related to agriculture, horticulture or forestry operations, and used more than 15 miles from their operating base.
They must be tested 4 years from the date of their first registration and then every 2 years afterwards.
You can find more information in the recent DfT consultation for 'Roadworthiness testing for fast tractors and other technical changes to vehicle testing'.
Defects found when testing
The directive will change how we categorise heavy vehicle defects at test. From 20 May 2018, we'll use either 'dangerous', 'major' or 'minor'. This will help operators to focus on what's more important to road safety.
Dangerous and major defects
If the vehicle is given a 'dangerous' or 'major' defect, it will fail its annual test. We're still working on how to make sure that dangerous defects are made clear to operators and our approach to issuing prohibition notices at the time of test.
We'll be working on this early next year, and will blog about it again soon.
Minor defects
Defects identified as 'minor' defects will be viewed in the same way as 'advisories' are today.
We're looking at how these will sit alongside the advisories we currently issue, and how best to display this information to operators.
Emissions testing
As part of the directive, we'll be lowering limits for certain diesel engine vehicles and testing to manufacturer values where appropriate instead. This means some changes will need to be made to diesel smoke meter software.
We're working with the garage equipment manufacturers to make sure this update will be ready for customers by May 2018.
Inspection manuals
Implementing the directive will mean changes to the manuals for heavy vehicles.
So far, we've had positive user feedback on the draft of the revised heavy vehicles testing inspection manuals, and we'll make sure this feedback is used in the new version.
Over to you
As always, please let us know what you think of the work we're doing, in the comments below.