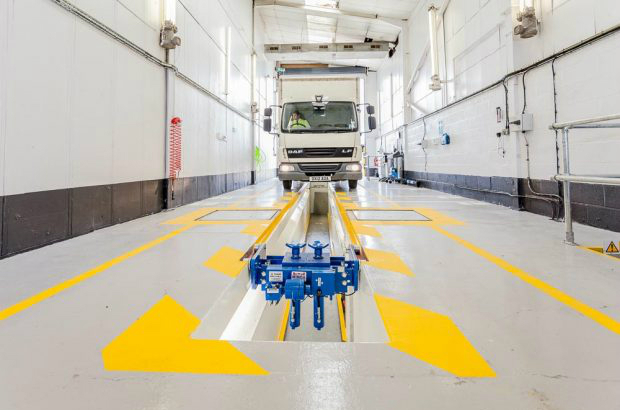 The roadworthiness directive will be implemented later this month, on 20 May 2018. Following my previous blog post, I wanted to give you an update about the work we've been doing since then.
Inspection Manuals
The new heavy vehicle inspection and categorisation of defects manuals are now published on GOV.UK. Thanks to everyone who gave us suggestions and feedback on the draft manuals, it helped us make some really useful changes.
There are some new items included in the annual test – such as:
tampering of emissions or the removal of devices
engine MIL (malfunction indicator lamp)
reversing lights
daytime running lights
front fog lights
There will also be changes to existing items in the test, including:
tighter emission standards for newer diesel engine vehicles
increased brake efficiency requirements for later drawbar trailers
an increase in the number of reserve applications of the brake pedal for air brake systems
additional guidance on view to the front and what items are acceptable
Currently a vehicle either passes or fails the annual test. From 20 May, defects will be categorised as 'dangerous', 'major' or 'minor'. You can find out more about the changes coming in on 20 May in the 2018 editions of the HGV inspection manual, PSV inspection manual and the Categorisation of vehicle defects.
The most serious defects are recorded as "dangerous" and will be listed as such on the fail documentation.
We'll still be issuing prohibitions for very dangerous defects observed at test that have an imminent impact on road safety. The inspection manuals provide details of which defects will attract the issue of a prohibition notice.
'Major' and 'minor' defects
Defects that are failure items but aren't deemed as 'dangerous' are categorised as 'major' defects.
The other new category is 'minor'. This is where there's a defect on the vehicle but it isn't considered serious enough for the vehicle to fail. Like the major and dangerous defects, these are pre-defined within the directive.
Our Standards Assessors (VSAs) will also still have the option to record advisory items, where they wish to highlight a component that will become defective soon.
ATF bulletins
At the end of last year, we started distributing ATF service bulletins to the ATF audience, and we've just issued the latest edition to remind them to upgrade their diesel smoke meter to take account of the new emission thresholds.
You can also find the previous service bulletins on GOV.UK.
Getting our staff ready
Initial training for our Technical Team Leaders (TTLs) started back in December and was completed back in March. The training plan for our vehicle standards assessors (VSAs) is also now complete.
Implementing the directive means that our VSAs and other vehicle inspection staff will also undertake annual refresher training, so we're getting them prepared for that. The focus for this year (2018 to 2019) is the changes to the inspection manuals and the new categorisation of defects.
A 'phased approach' to testing some heavy vehicles
I'd also like to remind you that there'll be some new vehicles being brought into test for the first time. Certain heavy vehicles, based on an HGV chassis, will lose their plating and testing exemption on 20 May. These include mobile cranes, breakdown vehicles and tower wagons.
We'll also be implementing a phased approach to testing those vehicles that:
are in the list of vehicle types, found in my previous blog post
were first registered before 20 May 2017
are currently (until 20 May 2018) exempt from statutory roadworthiness testing but from 20 May are subject to statutory roadworthiness testing (the change being effected by SI 2017 No.849)
The phased approach will last from 20 May 2018 to 20 May 2019. During this time period, all these vehicles must be tested before their next Vehicle Excise Duty (VED) renewal date.
Over the past few months, we've been carrying out targeted recruitment campaigns for testing staff, to make sure we meet the additional demand for testing.
Fast tractor testing
Fast tractors which have been designed and built to do more than 40 km/h, will also need to be tested if they're used for transporting a load that isn't related to agriculture, horticulture or forestry operations, and used more than 15 miles from their operating base.
They must be tested 4 years from the date of their first registration and then every 2 years afterwards.
As always, please let us know your feedback on the changes in the comments. It helps us determine where we can make further improvements.