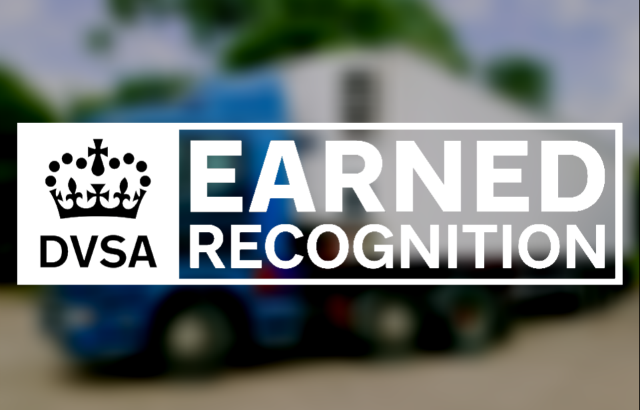 I'm thrilled to announce that DVSA earned recognition has gone live today, Tuesday 24 April 2018. It's been a long, long road to get here (no pun intended) and we'd like to thank everyone who's supported the pilot.
We've written a lot about how earned recognition works before, so I won't go over it all again here.
Instead, I wanted to share with you what some of the early operators on the pilot had to say about their experiences and why earned recognition is right for them.
Staples Vegetables
Staples were the first HGV haulier to sign up for the pilot – before it even had a name! They were approached by Phil Lapczuk, a member of DVSA staff, who asked them if they were interested in taking part.
...we were then pretty sure that we ran a compliant outfit. We agreed to be part of what was later named 'Earned Recognition' (ER) because we wanted to prove that this was indeed the case.
They found that taking part in earned recognition was an "eye opener" and that lots of their processes and protocols have sharpened up as a result.
Being on the scheme gives us peace of mind about how we run transport... ER has also improved our relationship with our service providers.
Even in the pilot stage, Staples have seen lots of benefits from earned recognition. They say it's made their transport division more efficient and that the key performance indicators (KPIs) have helped them focus on important outstanding issues.
They've also seen other benefits:
The relationship with our drivers and how they now approach compliance has improved. We take a lot of pride in how we run transport.
Their final verdict:
We believe [earned recognition] is the way forward as it could free up DVSA resources to tackle non-compliant operators and finally create a level playing field in our industry.
New Image Stone
New Image Stone supply, manufacture and install custom-made natural stone products for high-end residential and commercial developments. They're also the smallest operator on the earned recognition scheme with just one vehicle.
They first heard about earned recognition at a Freight Operator Recognition Scheme (FORS) conference last year and decided to look into it.
we researched into the benefits and realised it was an opportunity we could not miss being involved in.
Once they found out about it, joining the scheme was quick and easy.
From the support from the DVSA specialist, to the audit and upgrades to our tachograph system and IT Maintenance process has been a quick and easy process.
They've found that being transparent with us about their compliance is mutually beneficial. We get to better target our resources and they cut down on stops during the working day.
The location and nature of their work also makes earned recognition particularly useful for them.
Due to the nature of our work, we are constantly going into central London on commercial sites, so we believe that it will only be a matter of time before our clients decide this scheme is a requirement to win work.
Their final verdict:
It demonstrates to our clients, suppliers and competitors that we're fully committed to improving our vehicle and driver standards by working closely with DVSA on this scheme.   Being recognised as an approved operator and founder member is something we're proud of.
Lucketts Travel
Lucketts were the first PSV operator to join the pilot. They found joining the pilot to be easy, as they already measured lots of the same KPIs used for the scheme.
[joining] the scheme was a relatively straightforward process, particularly as we were already rigorously assessing ourselves against similar KPIs in our operational and engineering areas.
For Lucketts, joining earned recognition was a natural extension of their approach to vehicle safety, which they view as being "paramount" and a "key priority".
The Lucketts Group prides itself on its compliance values and ethos, so it's been an honour to be asked to do this and we're delighted that we were the first PSV operator to be officially accepted onto the pilot scheme.
Up until this point, they said they hadn't seen many benefits from being on the pilot, because it was only a pilot. But they expect this to change once the full scheme goes live:
Going forward, we see it as an opportunity for clients to 'officially' recognise the exacting standards we achieve, as well as the very high safety standards we consistently deliver.
Their final verdict:
It was a very logical decision for us to join Earned Recognition and we'd urge other operators to do the same.
A logical choice
If you're an operator and you take compliance and safety seriously, joining the earned recognition scheme is a logical choice.
Getting on the scheme can be very simple - especially if you already have management systems in place. And, if you don't, it provides an excellent opportunity to put in place management systems to help you in the future.
Not only does it send a message to clients, customers and competitors, that you take road safety seriously, it means fewer delays and hold ups in the working day.