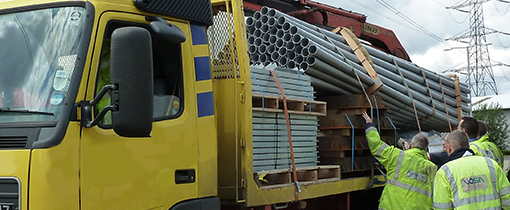 Although the European best practice guidelines for cargo securing for road transport (PDF 9.1MB) have been around for a while now, member states do not have a common approach to load security.  Enforcement throughout the European Union is sporadic – some member states use very strict rules but most countries lack a structured training programme.
We attended a recent meeting in Brussels, where the European Commission's (EC's) proposal for a consistent approach for all member states was discussed. The proposal focuses on the general principles of load security. It creates a single standard and assessment process for all member states. It was agreed that our own approach to load security fits perfectly with this proposal.
We expect that the load security system retains the equivalent of 50% of the total load weight to prevent movement to the side and rear, with 100% retained forward. The load security system – a combination of lashings, headboard and other appropriately rated methods – should secure the load to the vehicle bed to at least those standards. Take a look at our load security matrix to find out how we assess the security of different loads.
To get these new proposals in place, the EC voted to amend Regulation 1071/2009 (PDF 1MB) to include cargo security – or load security as we know it. The amendment includes best practice guidelines and an annex relating to cargo security.
The EC's proposed approach is in line with our methods – our load security matrix is based on the recommended assessment process, and we're already training our staff to meet the new requirements.
Although we have recently put more focus on enforcing load security rules, our assessment and standards are not as strict as those of some member states. Our matrix concentrates on more obvious issues, and we are more likely to give advice than take enforcement action.