A grand piano falls through the air against the backdrop of an ominous grey sky. Two boxers square up to one another inside the ring of a dimly lit studio gym. Two rams prepare to duel at the cliff edge of a snowy mountain top as the title credit reads: Things you shouldn't get caught between.
This is the opening sequence to the new THINK! cycle safety campaign. But what does a piano, boxing and rams have to do with cycle safety you might ask?
Well, nothing really. It's what they represent that's important: the moment before impact, being caught between two things – a place you don't want to be.
Dangers of getting between a lorry and a left hand turn
This is the simple idea behind our cycle safety campaign. We want to remind cyclists of the dangers of getting between a lorry and a left hand turn - the area where one third of collisions between cyclists and lorries happen.
The advice we're giving to cyclists is 'Don't get between a lorry and a left hand turn. Hang back'.
The campaign is also targeting HGV drivers, encouraging them to take the extra time to look out for cyclists.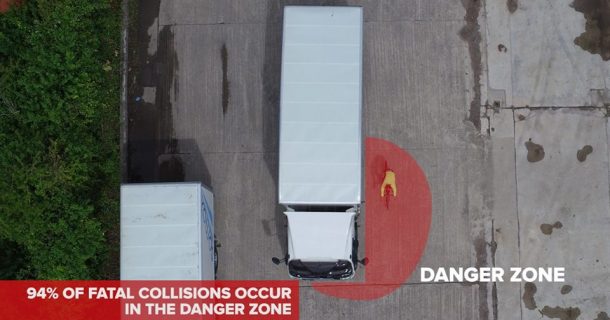 HGVs present one of the largest dangers to cyclists on the road. In the last 5 years, 104 cyclists have been killed in accidents involving a HGV. Startlingly, this accounts for nearly 20% of all cycling fatalities.
Better mirrors, proximity sensors and blind spot cameras are making driving safer, but technology improvements will never replace the judgement and expertise of you – the driver – behind the wheel.
Safe driving practice
Taking a proactive approach to improving the safety of everyone on the roads – beyond regulation requirements – is high on the agenda for the freight and haulage industry.
Safe driving practices are an integral part of your professional development. Looking out for vulnerable road users is second nature to you.
THINK! is all about encouraging each and every one of us to think about our behaviour on the roads.
You know the drill. You know to check your vehicle before you set off. You know what to look out for in your mirrors. You know that you should never overtake a cyclist on the approach to a junction. You know to pull up behind cyclists at a junction rather than alongside them. And you know to give them space when you overtake.
But knowing and doing, each and every single time, are two very different things.
Professional drivers training
DVSA oversees periodic training programmes for professional drivers. This includes advice about how to interact safely with vulnerable road users and best practice for driving in an urban environment.
The training forms part of the Driver Certificate of Professional Competence (CPC) – a qualification that requires top-up training every five years to maintain and refresh driver skills.
If you're a professional driver and you want to find out more about vulnerable road users or safe urban driving then visit JAUPT for details of available courses.
Take extra time to look out for cyclists
So next time you're out on the road and you see a junction approaching, take extra time to look out for cyclists.
As the number of cyclists on the road increase, being vigilant to the movements of riders at junctions is the only way to avoid the potential devastating consequences of a collision.
THINK! Take extra time to look out for cyclists.