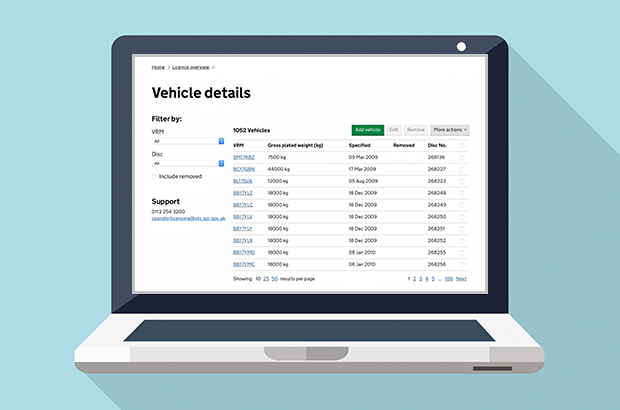 It's been a while since our last update on Vehicle Operator Licensing (VOL) – the new online system that's replacing operator licensing self service.
A lot has happened since the video we published earlier this year, which explained why it's changing and what the benefits of the new service will be.
With the new service, you'll be able to:
make applications online

amend your details (eg. safety inspection provider)

add, update or remove transport managers

export your vehicle data
Testing the service
In June, we carried out a trial of the new service with 50 operators. This gave users of the service a chance to share their feedback with us. It also allowed us to make improvements before it goes live.
We're encouraged by the feedback we received which showed that users found it easy to manage their licences on the system.  
Getting Ready
To get ready for the new service you'll need to have a modern and secure browser installed to access the new services and to make sure that we can protect your data.
You can use any of the following browsers:
Microsoft Internet Explorer 11

Microsoft Edge

Google Chrome 38 or later (52 or 53 recommended)

Firefox 27 or later (48, 49 or ESR 45 recommended)

Safari 7 or later

Mobile Safari 7 or later

Chrome Mobile 38 or later
If you're not sure what browser you have you can check which version you use and update to one which will work with VOL by visiting What Browser?
Operator licensing self service unavailability
Operator licensing self service won't be available from 4pm on Thursday 10 November until midday on Monday 14 November.
If you use this service regularly, particularly to make vehicle changes or submit applications, you'll need to do these before 4pm on Thursday 10 November or wait until Monday 14 November.
If you have any urgent vehicle changes during this period please contact operatorlicensing@otc.gsi.gov.uk.
Look out for our blog next week which will have more details about VOL.