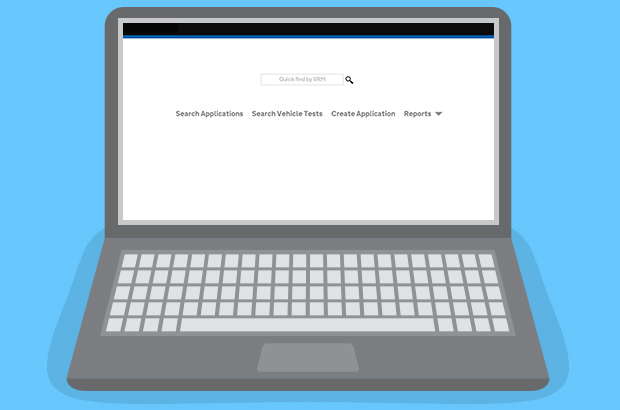 From Wednesday 1 February 2017, we won't be accepting any technical applications for the HGV, PSV, Trailer, Carriage of Dangerous Goods by Road (ADR) and approval schemes by email. We'll continue to accept postal applications after this date.
However, the quickest way to send your application will be online on GOV.UK. You can already apply online for the following applications.
Vehicle approval
You can apply for an Individual Vehicle Approval test for:
passenger cars

goods vehicles

buses and coaches

trailers

special purpose vehicles
Test certificate for a lorry or trailer
You can apply for a vehicle test or certificate for a lorry or trailer you'll need to do this if:
it hasn't been tested before

you've altered its chassis, weight, tyres or brakes
You can also:
apply for a 'certificate of keeper' to prove that you're responsible for your lorry or trailer

ask for permission to supply a large goods trailer
Test certificate for coach or bus
You can apply for a vehicle test or certificate for a coach or bus if you:
need a

Certificate of Initial Fitness

(COIF) to register your coach or bus as a Public Service Vehicle (PSV)

need an

Accessibility Certificate

to carry disabled passengers

need to apply for a replacement certificate

have made a specification change to your coach or bus

want permission to drive up to 100 km/h in France or Germany
Tell us about a change to coach or bus
You need to let us know if you've:
made your coach or bus more accessible for disabled passengers

made any changes to your coach or bus that has been issued with an original

Certificate of Initial Fitness

(COIF) or approval certificate

made changes to the registration mark of your coach or bus
Why you should apply online
We suggest you start applying for your technical applications online now, so you can get used to doing this before we stop accepting applications by email.

Submitting your applications online should speed up the whole process. As soon as an application is submitted they're date stamped meaning there won't be any postal delays. It also removes the time it takes us to upload any applications received by email, fax or post.  
Once you've submitted your application online we can access it electronically at any DVSA site so we don't need to post forms to testing stations anymore.
You'll also be able to keep up to date with the progress of your application. You'll receive an email at every stage of the application process letting you know things like when a payment is required or when you can arrange your appointment.
When you can apply by email
We'll continue to accept email applications for:
HGV

RPC/LEC scheme applications

TD1 and TD2 (plating applications)

PSV

RM1 (amend existing PSV record)

RM2 and RM3 (create PSV record)

PSVA4 (type approval application)

PSV400 (type approval application)

Approvals

IVA 5 (request for replacement certificate)

MSVA/PMSVA (for Derby, Gillingham, Kidderminster, Chadderton)

all appeal forms
Experiencing problems applying online?
If you do experience any issues using the service then it might be worth updating your browser. You can find more information about what browser to use on GOV.UK. 
If you've read all of the guidance but are still experiencing problems submitting an application online please call 0300 123 9000.
We updated this blog on 16 December 2016 with the new deadline for email applications (Wednesday 1 February 2017). We extended the cut-off date for email applications to February to give you more time to adapt to the changes during the busy festive period.