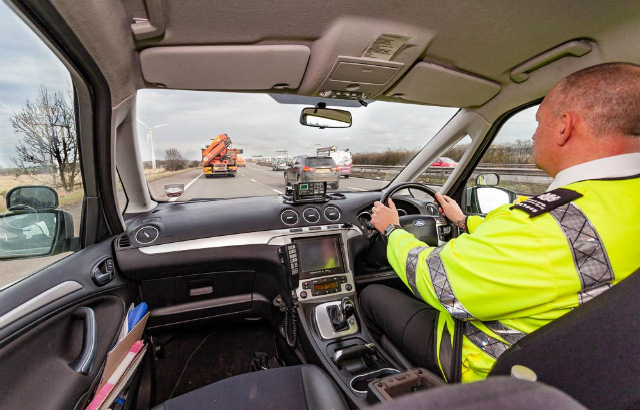 DVSA works with the Traffic Commissioners for Great Britain to protect you from unsafe vehicles and drivers. Every day, DVSA officers and examiners carry out checks on vehicles and drivers at the roadside to do this.
Our stopping officers are authorised to identify and direct vehicles to check sites for further investigation. Their work makes a vital contribution to our enforcement activities.
In most cases, drivers follow the instructions given by DVSA stopping vehicles. However, some choose to ignore them.
Failing to stop
Failing to stop when instructed to do so by a DVSA officer is an offence.
DVSA can prosecute drivers, and also send a report to the independent traffic commissioners, who have the power to take action against a driver's professional licence.
Recently, DVSA did just that after a driver failed to stop. DVSA officers were worried about his vehicle's load being insecure – it was carrying 4 skips stacked on top of each other.
We made 2 attempts to stop the vehicle but the driver didn't follow our instructions and continued on his journey.
Our investigations after the incident revealed the driver wasn't using a tachograph card for the journey. He said it was faulty but didn't take a print out from the tachograph to make a manual entry on the back before starting to drive.
That an examiner subsequently discovered this offence only adds further justification to DVSA's decision to stop his vehicle.
Driver conduct hearing
At the driver conduct hearing before the Traffic Commissioner Nick Denton, the driver claimed that it wasn't safe to follow the stopping vehicle. But Nick didn't accept this and said footage from cameras on board the stopping vehicle showed he had sufficient time and opportunity to stop.
The Traffic Commissioner suspended the driver from professional driving for 8 weeks.
As this case shows, DVSA and the traffic commissioners will not tolerate any attempts to avoid enquiries or hide non-compliance.
For more information on driver's conduct, you can read the Senior Traffic Commissioner's Statutory Document on vocational driver conduct.