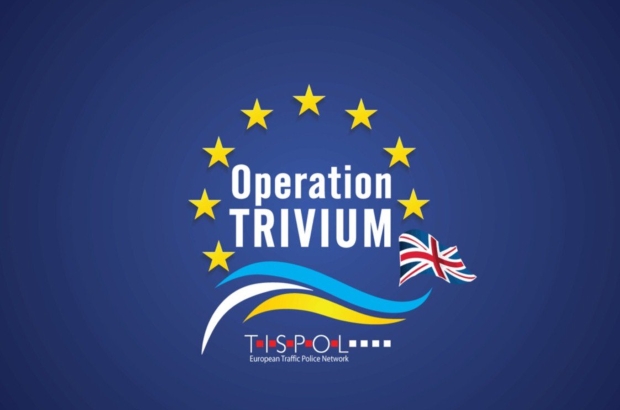 Our enforcement teams at the Driver and Vehicle Standards Agency (DVSA) recently supported a major operation to target foreign offenders using the roads.
Operation Trivium 7 took place from Monday 21 November to Friday 25 November 2016. During that week, I got the chance to visit a few check sites and see what happened during the operation.
Seeing the work first hand
I work in DVSA's External Communications team. I only joined DVSA in October 2016, so this was my first chance to get out and see the enforcement work DVSA does first hand.
Working in an office all day it can be easy to forget that a lot of the work DVSA does is going on the at roadside - whatever the weather, as I found out on a particularly rainy day!
This was a great opportunity to get out and to chat to our enforcement staff, understand the work they get up to and see the type of defects they're finding on vehicles.
Throughout the week, I got to see how our enforcement staff work with the police and other partners to stop and check vehicles and drivers' details.
About the operation
We regularly work with other organisations on operations that protect the public from unsafe vehicles and drivers. This operation was no exception and involved a huge amount of work from lots of different organisations.
A national control centre was set up in the West Midlands, with representatives of Europol (the EU's law enforcement agency) based there throughout the week.
Police officers from Romania and Lithuania were also available to check police systems in drivers' home countries to check details supplied by foreign nationals.
Out on the road, DVSA and local police services were joined by:
the National Crime Agency
the Home Office
HM Revenue and Customs
The operation was also supported by staff working remotely from:
DVLA
Highways England
the Gangmasters Licensing Authority
the Department for Work and Pensions
the National Vehicle Crime Intelligence Service
the Motor Insurers' Bureau
the Environment Agency
the National Trading Standards Intelligence Team
Reporting live from the operation
Throughout the week, the External Communications team tweeted updates from various DVSA check sites.
I've picked a few highlights below.
A catalogue of defects
Just issued prohibitions for loose wheel nut, wing insecure, spray suppression missing & wing badly torn #optrivium pic.twitter.com/6M91BfHuOC

— DVSA (@DVSAgovuk) November 22, 2016
HGV levy
Just issued another prohibition for a brake defect as well as an on the spot fine for not paying the HGV Levy #optrivium pic.twitter.com/UjeWlXduBC

— DVSA (@DVSAgovuk) November 22, 2016
Fuel cap
Vehicle checks underway as part of #optrivium. Just issued an immediate prohibition as the fuel cap had been replaced by a plastic bag. pic.twitter.com/VDl0k7fDmZ

— DVSA (@DVSAgovuk) November 24, 2016
Tachograph circuit readings
Checking tachograph circuit readings with a KITAS sensor #optrivium pic.twitter.com/SbSS2XBZrA

— DVSA (@DVSAgovuk) November 23, 2016
Braking defects
Results from the operation
At the end of the week, DVSA staff found, 77 offences, 16 defects and issued £2,650 in fixed penalties.
There were also:
12 arrests resulting in a caution
5 arrests resulting in the suspects being bailed
Another arrest has already resulted in a charge.
Even though I was only taking part in the background, taking photos and tweeting, it was great to showcase all the hard work that's involved in an operation like this.
Operations like this play a vital part in protecting the public from unsafe vehicles and drivers. And it's reassuring to know that our enforcement teams are out there, working all-year-round to keep you, your family and friends safe on Great Britain's roads.
You can see everything the operation found by looking through tweets with the #OpTrivium hashtag on Twitter.