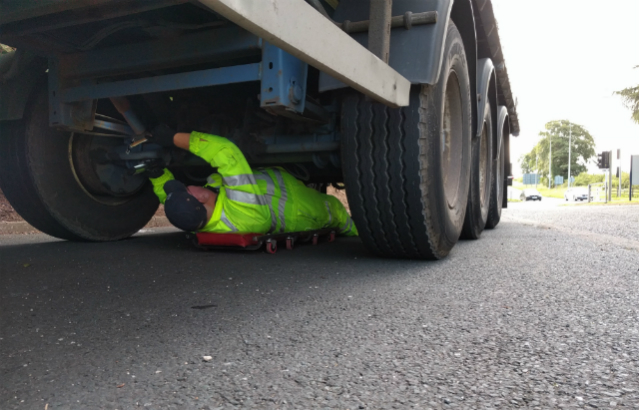 Every day our enforcement staff are out there on Britain's roads stopping dangerous and unsafe drivers and vehicles.
Usually this means pulling them over as part of our roadside checks and issuing fixed penalties and prohibitions to dangerous drivers and operators. But, we're always looking at other ways that we can work with the industry to improve compliance.
Continuous targeted enforcement
We continually monitor operator compliance so we can focus on operators who are serially non-compliant, posing the greatest risk to road safety.  
To protect you from these unsafe drivers and vehicles, serially non-compliant operators will be selected for increased targeting by our enforcement staff.
If an operator is selected for increased targeting, we invite them to a meeting with us to discuss the issues we have and make suggestions on what they need to do to increase their compliance.
If they decide to work with us, we'll give them a period of time to improve and our enforcement activities won't be as disruptive.
If an operator chooses not to work with us we'll increase the number of times we target their vehicles - this could mean stopping the operator's vehicles several times a day. This is very disruptive, and costs operators lots of time and money and could mean they miss timed delivery slots. This could also damage the operator's reputation if they're missing delivery slots and their vehicles are turning up late.
Portuguese operator leads the way
In 2016, DVSA wrote to a serially non-compliant Portuguese operator and invited them to meet with our enforcement staff.
During the meeting, we explained the consequences non-compliance could have and talked through their specific offences and defects. These included:
serious brake defects

serious steering defects

exceeding the daily driving time

insufficient daily rest
We then met with the operator again in April 2017. Since our first meeting, the operator had taken several measures to increase compliance, these included:
changing the roads they use to reduce damage to the vehicles before reaching the UK

setting up additional maintenance teams to improve the roadworthiness of the vehicles

taking action against drivers who are committing drivers' hours' offences

increasing training to help drivers understand the consequences of breaking drivers' hours' rules
As a result of working with us and listening to our advice, the operator was able to avoid serious disruption to their business and continual enforcement stops, and we've stopped our increased targeting on them.
Working together is the way forward
This case study shows that working with us is better for the success of your business and for road safety.
So, if you find yourself selected for increased targeting, don't ignore our invitation to speak with us - it could save you lots of time and money, avoid damaging your reputation and help keep our roads safe.
Take a look at our commercial vehicle safety and maintenance guides, and don't forget you can manage your commercial vehicle compliance online.
Follow us on Facebook and Twitter for regular updates. You can also sign up for email alerts.