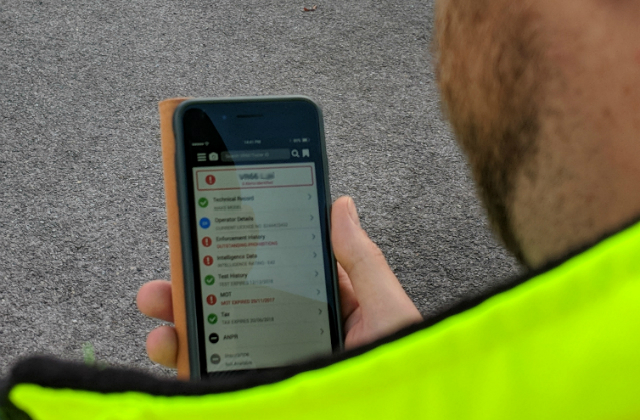 Our frontline enforcement staff have started using an innovative new search app that's set to save you time at enforcement stops.
Reducing the burden
You'll already know all about our roadside enforcement checks. They play a vital role in keeping Britain's roads safe by allowing us to take dangerous drivers and vehicles off the road.
But sometimes drivers and vehicles get stopped where the vehicle's in good nick and the driver hasn't done anything wrong. This costs us time and costs the people we stop time, so we want to cut it out as much as possible.
We've already started this by introducing the earned recognition scheme in April and the new search app should reduce the burden of enforcement stops on compliant operators even further.
Info at their fingertips
By scanning a vehicle's registration number or vehicle identification number (VIN) with their smartphone or tablet, our enforcement staff can now quickly access all the information they need to do their jobs. This includes the vehicle's testing history and any previous mechanical or driver problems.
Before, DVSA staff would have had to search lots of different databases for this information. Having it available in one place will save both DVSA and operators time and money.
This will give DVSA staff more time to focus on catching more dangerous, non-compliant drivers and vehicles by cutting down on the time they spend on good operators.
We estimate it could also save safe operators as much as 15-20 minutes at each enforcement stop helping them get back on the road.
So what can they see?
The search app will allow enforcement staff to:
access useful intelligence (including Operator Compliance Risk Score (OCRS), test data, operator details, outstanding prohibition notices)
access to ANPR recognitions to validate drivers hours records
make an informed decision whether to examine the vehicle
target both domestic and foreign vehicles – access to road levy payment details
Here's what it looks like
Here are some screenshots showing the new app's interface.
The first image shows what an examiner will see when they first scan a vehicle. It flags any issues with the vehicle, including MOT data.
The second image shows any enforcement history the examiner might find useful.
The third image shows the extra information an examiner can see if they drill down further for more detail.
There are obviously dozens upon dozens of different screens they might be able to see, so I can't show you all of them here, but hopefully you'll have an idea of what the app looks like now.
What do our staff say?
DVSA traffic examiner Helen Meechan had this to say about the new search app:
The search app has quickly become a vital piece of equipment for me.

I work mostly conducting mobile checks with North Wales Police as part of their Commercial Vehicle Unit. Previously, I had to run a single registration number through several websites and databases with my laptop on my knee in a police car before deciding whether to target a particular vehicle.

Now I only have to enter it once into one app on the smartphone and the information is at my fingertips.
And here's what Jennifer Poole, another traffic examiner, had to say about the app:
I had a good job the other week. One of our enforcement support officers pointed out the ANPR data to me and I caught the driver out by using the info on the app.

He had passed me a manually completed tacho claiming the chart had been damaged, but what he had drawn on the chart didn't match the ANPR data. I find the search app invaluable!
What's next?
We've got plans to add even more information to the app, including driving licence data from DVLA and insurance information.
That'll mean we'll be able to check drivers' identities and see if they're uninsured.
We're also exploring whether we could give driving examiners the app. Being able to check drivers' identities will really help our staff clamp down on imposters trying to cheat the driving test.
Other features will include:
recording inspections
issuing notices & fines
planning and recording operator visits
Earned recognition
You might be wondering how this all links in with the earned recognition scheme.
So, being on earned recognition doesn't mean your vehicle won't ever be pulled in – it's just much less likely. It can happen if the vehicle is obviously dangerous or it can still happen as part of a random check.
If an earned recognition operator's vehicle is pulled over at random, our staff will scan the vehicle with the app.
The app will then show that it belongs to an earned recognition operator's vehicle and they'll be sent on their way unless there's an obvious problem with the vehicle or driver.
It'll all take much less time than it would have done before they had the app.
Digital transformation
The search App is an example of digital transformation that is giving our staff access to data that will enable smarter enforcement and better decision-making.
The #SmarterGov campaign has been launched to drive innovation, savings and public service improvement across the DVSA and wider public sector.
Check out our Digital strategy for 2018 to 2020 for more information.