Diesel spillages affect us all – they cost money to clear up, delay traffic and affect the environment.  
At Highways England we've developed guidance for commercial vehicle drivers and operators to help stop them happening. 
We recorded 314 HGV diesel spillages in 2018. Diesel left on the road surface for as little as 2 hours leads to structural damage, resulting in the need for resurfacing.  
From a study of these types of incidents we found: 
41% of incidents were estimated to be 2

hours or less 

 

14% of incidents were between 2

-5

hours 

 

22% of incidents were over 5

hours
The cost can be around £540,000 for a 4-hour delay on a busy route.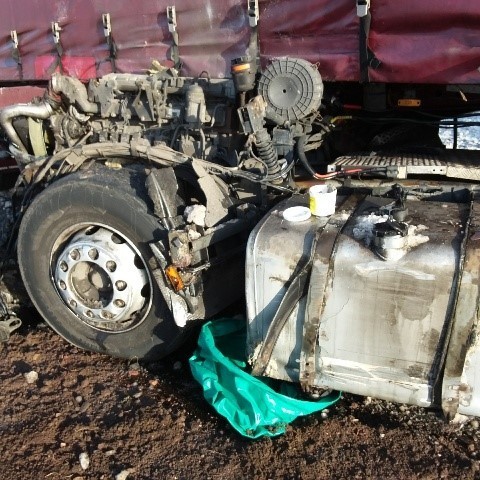 Best practice guide
The diesel spillage best practice guide aims to help HGV drivers and operators reduce the number of incidents as well as explain the impact they have. 
Highways England encourages operators and drivers to be proactive in taking steps to prevent diesel spills. 
We conducted a survey of over 200 fleet operators which revealed 42% don't equip their vehicles with spill kits. This would result in a spillage not being treated until a response unit arrived. 
 The guide provides best practice advice on dealing with and reporting spills as well as actions to take to prevent them.  It's split into two parts covering driver and operator responsibilities. 
Drivers can prevent spillage
s
Drivers can improve safety and understanding by: 
carrying out daily

walkaround

checks of the

ir

vehicle to prevent spillages

 

ensuring

they're aware

of environmental

risks associated with

diesel

spillages

 

 

improv

ing their

awareness of penalty notices and fines

 

 

hav

ing

an understanding of

their

diesel spill response plan

and

, where fitted,

us

ing

a spill kit. 

 
Operators also have responsibility
The guide advises operators on what they can do to prevent diesel spillages which will help the operator by: 
avoiding DVSA prohibitions (vehicle immobilisations) and other potential penalties

not increasing insurance premiums

 

reducing loss of vehicle, fuel and driver time.
 There are additional safety measures available to them to prevent spillages such as: 
fitting fuel caps with anti–syphon devices

and self-sealing tanks

installing guard rails to the sides and extended cat walks on the top of the fuel tank for protection

 

carrying spill kits (comprising of booms, mats, sealant putty and portable containers).

 

T
he impact and cost of a diesel spillage
We've also produced 'What is the impact and cost of a diesel spillage' leaflet to highlight the impact and cost of diesel spillages. This illustrates real-life case studies of spillage incidents and features costs incurred by stakeholders involved in the clean-up and repair. 
Our aim is to show the importance of prevention and minimisation of diesel spillages and the costs associated with these incidents. 
Focus
The focus of these documents is to improve road user knowledge and attitude, promote best practice and improve responses to diesel spillages.
We aim to achieve:  
a reduction in the

number

and

severity of incidents

 

less

risk of diesel entering the water course and causing environmental damage

 

less

costs from resurfacing and repairs to

roads

 

a reduction in the

number and cost of claims for Highways England to pursue and reclaim. 

 
So, if you want to avoid diesel spillages don't forget to read through our guides and if you want further information you can contact us at IncidentPrevention@highwaysengland.co.uk 
This is a guest blog from Highways England