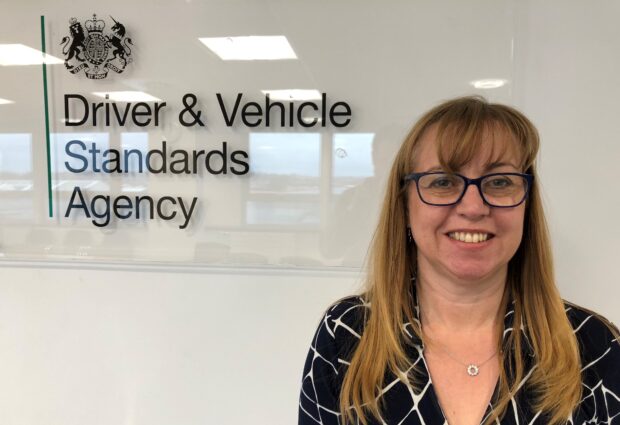 Hello, my name is Marian Kitson and I joined DVSA as the Director of Enforcement in September last year.
International Women's Day happens to mark my first 6 months with DVSA. I've certainly learned a lot about the road haulage industry and passenger transport industries in that time. It's interesting that some of the meetings I have attended with industry experts are male-dominated, so I'm often one of the only women in the room.
A lot of progress has been made in the UK, but we still have a long way to go before all jobs are equally open to everyone. So, I thought I'd write this blog post to share my experiences of working as director of enforcement at DVSA and my career so far.
My time with DVSA (so far)
These early months have been focussed on understanding the complexities and incredible scope of the work that my people do across the Enforcement Directorate.
I've spent time with DVSA's roadside teams, going out with the stopping officers to experience how we use intelligence to target the vehicles we stop. At the roadside, I've seen my staff make tired drivers take rests and stop dangerously defective vehicles going back on the road.
Without their work, there would be many more overloaded, mechanically dangerous vehicles and tired drivers on British roads. And on top of that, they check for AdBlue emulators that allow illegal pollution and damage the nation's health.
I'm incredibly proud of the work that my teams do and the positive impact we have on road safety across Great Britain.
Shaped by working at HMRC
I started my civil service career as an administrative officer in the Land Registry, which is about the lowest grade in the whole civil service. I then moved to HMRC as an executive officer, which is one level up.
Over the next 32 years, I worked my way up through the department from executive officer to Grade 6. I had a number of roles at HMRC, all in enforcement as an investigator and manager. This involved direct investigation of different businesses, from small traders to large corporations.
I had lots of leadership roles at HMRC, leading teams of 750 staff across the country, making sure businesses paid the right amount of tax at the right time. We also tackled serious offences, including tax evasion and tax avoidance.
I spent the first 20 years of my career as a woman in a working environment dominated by men as my peers and in senior management positions.
When I left HMRC, that had changed and the gender balance was dramatically different, at all levels.  I like to think of myself as a pioneer, believing that I could do the job as well as my male colleagues.
Live outside your comfort zone
My mantra has been that 'life begins at the end of your comfort zone.' This has meant looking for and taking on roles different from what I'd done before.
This included taking on a degree level post graduate qualification when my children were young. I was fortunate that my husband was flexible and supportive, and I learnt to make the most of every minute as I balanced being a mum with work and study.
I believe I've also done this by moving into my current role. While I know enforcement, transport, roads and vehicles are less familiar, but I am well supported by my teams and colleagues as I build my knowledge.
Engineers everywhere!
I may not have an engineering background (although I took sciences at A-Level), but I'm surrounded by engineers!  My husband is a retired aircraft engineer, my son is an apprentice vehicle technician and my daughter is studying mechanical engineering at university.
As a female engineer, she is in a significant minority - just 6% of her fellow students are female. She takes her role as a STEM ambassador really seriously, and she aims to encourage other young women to consider engineering as a career choice.
My role model
My role model is my friend Myriam. She's faced a number of tough life challenges, including a battle with cancer, financial worries and a job in the health service where senior colleagues are male, but have less experience than her.
With incredible determination, she maintains her professional integrity, always keeping the health of her patients as the priority.  But most impressive is her relentless good humour. Absolutely no one can be sad in her company and she encourages us to see the best in every situation.
It's a special talent that she shares with everyone she meets. She's my inspiration and I am blessed to call her my friend.
A little advice
As a cross government coach and leadership mentor I really enjoy working with people to think beyond the obvious as they consider their career options. In particular, I've enjoyed helping people not sure what to do next in their careers to think bigger and wider.
So, if you take one thing away from this blog post, it's this: live outside your comfort zone. Don't be afraid to push beyond what you think you can do.
You might just surprise yourself.